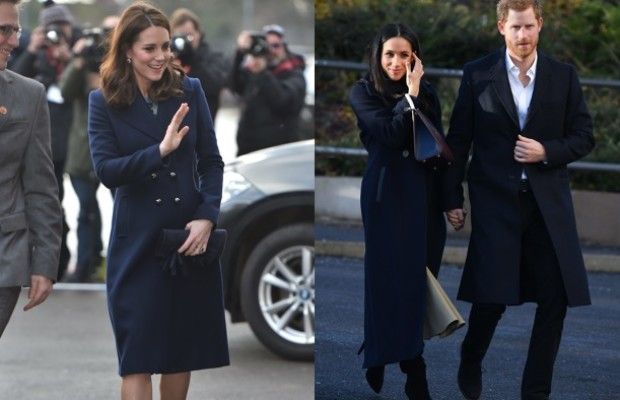 Duchess of Cambridge Kate Middleton just stepped out to visit the Reach Academy Feltham in London wearing a navy coat that many will find quite familiar! The piece actually was nearly identical to the navy coat that soon-to-be royal Meghan Markle recently wore during a public appearance of her own.
Kate's version of this look seemed to be quite classic and sophisticated with its knee-length cut and double-breasted lapels. The coat was tailored well to her body but also left room for her budding baby bump! In her hand, she held a black clutch and kept all the buttons on the coat done up for an ultra-polished look.
Markle, however, took her own approach on this classic outerwear piece. Her coat seemed slightly trendier with an ankle-length cut and leather detailing along the pockets. Overall, her look came across a little edgier as her midi skirt and slouchy boots peeked out from below and she left the buttons of the coat undone. Rather than a classic clutch, Markle held a stylish handbag around her wrist.
Although both ladies rocked the navy coat fabulously, we can't help but wonder, who wore it better? Let us know what you think in the poll!